First off I will give a huge shout out to my counter parts over at SWTOR-Life who got the latest fan site spot light.
The site has really taken off since we all started pulling together, and its a great honour to be placed in the spotlight. We still hope to go from strength to strength and with Serge and SWTORCRAFTER at the helm we can do just that. Everyone over there are such great guys and I'm glad to be working with them all. You can get the rest of the story
here
.
Also in that link you'll find all the normal suspects Avatars, Icons and fan art. I don't know why but I love this little number from the
nick_of_time.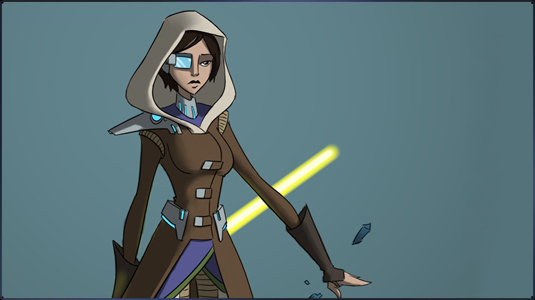 Also we got a short video from the Fan Site Summit which we attended. And I will say now no matter the hate I get from it, but its way better playing than it is watching :)
And we got another
Studio Insider - Combat Audio
.
Here we get a small taste of the high audio quality that you will come to expect in TOR. In my articles from the Fan Site Summit event I did try to relay how good the sound was in the play through. What we get here is the smallest of snips from in-game footage.
Now this goes on all the time, and it really is something to behold. You know when a team puts so much effort into what we as gamers consider small and insignificant parts of the game. We know the rest is going to be so much better that what we have so far been settling for in past mmo's.
I know Fan Fridays are everyone idea of a great update. With this being so close to E3 the biggest gaming convention on the planet, I for one am pleasantly surprised.
I know many are hoping for a release date from E3 not sure if we will get that at the sage the game is now in. I would still be over the moon if BioWare announced a date in the near future what real closed Beta would be taken place.
That or a small drop on the NDA that has so far surrounded the game testing program.
With news TOR will hit something this year, E3 remains the strongest platform to get information out that many of its avid followers have been waiting for.
I still expect something big from E3 though I am not hoping for that all important release date to be announced.